IHM International
IHM International – the Institute for technology-based education in Health, Management and Social Services International – in short IHM – was founded in 2012 as collaborative partnership in Austria as a non-profit association in accordance with the Austrian-Chinese research cooperation.
The purpose of the association is to develop, distribute and support educational programs with focus on the fields of health, management and social services.
IHM offers
education which is personal and intense, so to experience real knowhow from the specialists;
education independent from time and place, therefore enabling long distance learning with its IHM E-Cademy (see link on the top)
technological siuupport for education and trainings programs with according apps and software developments.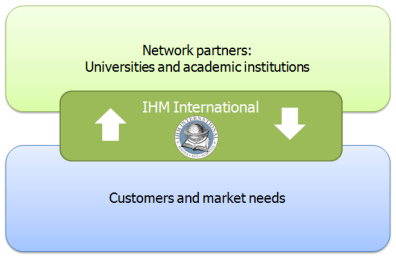 IHM is an international organization acting as an intermediary between partner institutions and international markets.
IHM is the reliable partner for education and training.
IHM develops and promotes possibilities in education and support a worldwide exchange of knowledge.
IHM collaborates with an extensive network of organizations, including public institutions, research facilities, educational institutions and industry partners all over the world.
IHM is specialized in medical and medical-economic education programs.
IHM has a broad national and international network.
Vision – Mission – Philosophy